Go Africa, go Kenya!
06 August 2012 16:12
All agree that there is huge potential in Africa, but success usually comes only to those who toil for it. A good beginning is to choose which market out of the continent's 54 countries to start with. As a gateway to East and Central Africa, Kenya stands out from the crowd with strong connectivity and a relatively modern retail sector.

Kenya, with a population of 38 million, enjoys the highest per-capita GDP in the region. It's by far the largest economy and the most industralised country in East Africa.

A view of Kenya

Trailing South Africa to the south, Egypt to the north and Nigeria to the west, Kenya is Hong Kong's largest export market on the east coast of Africa. Despite a setback in 2011, Hong Kong's exports to Kenya gained 274% (from US$39 million in 2002 to US$146 million in 2011) in the past decade, while total bilateral trade grew by more than 190% to top US$206 million in 2011.

As a leading manufacturer and trader of electronics, Hong Kong has benefited from Kenya's mushrooming ICT evolution. In the period 2006-2011, Hong Kong's exports of telephone sets to Kenya soared by a remarkable rate of 1,881% from US$2.6 million to US$51.5 million.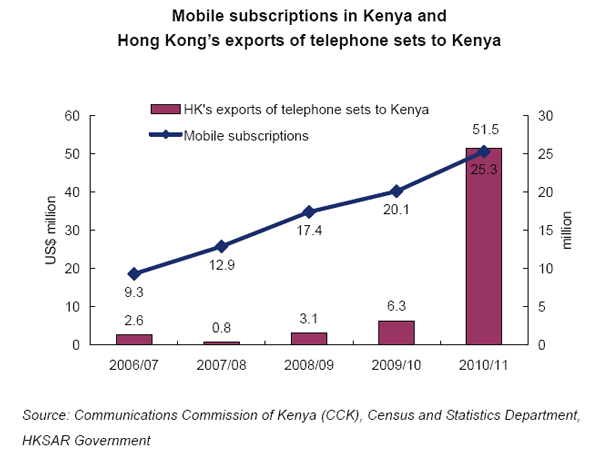 While concentrating marketing efforts on modern retailers and established importers in major cities such as Nairobi and Mombasa, Hong Kong traders can also direct their attention to the nascent pool of new importers flourishing in line with the country's Vision 2030 Development Plan which sets to bolster wholesale and retail trade. These novices, however, may require extra care and considerable communication as most of them are inexperienced and sometimes not fully aware of international trade practices and standards.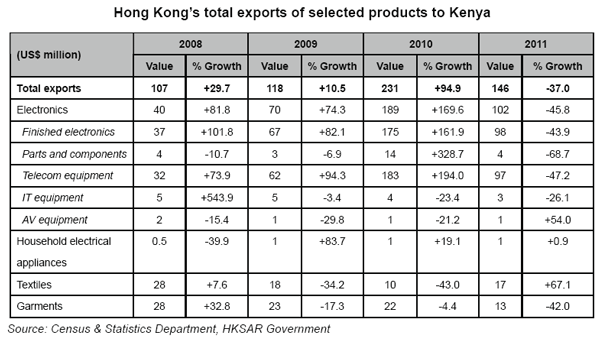 At present, major obstacles to direct sales are the small volumes and lack of financial support for importers. To get around this problem, Hong Kong exporters, apart from co-operating with the leading hypermarket/supermarket chains and shopping centres, may consider appointing a sales agent which can consolidate the orders from multiple buyers in the country or region. To obtain information on reliable Kenyan agents, Hong Kong companies can seek assistance from official agencies such as Kenya Investment Authority (KenInvest) and Kenya National Chamber of Commerce and Industry (KNCCI).

Read more to get more Practical tips to dip your toes into Kenya's growing market.
Comments: